When Should Small Businesses Use a Staffing Agency?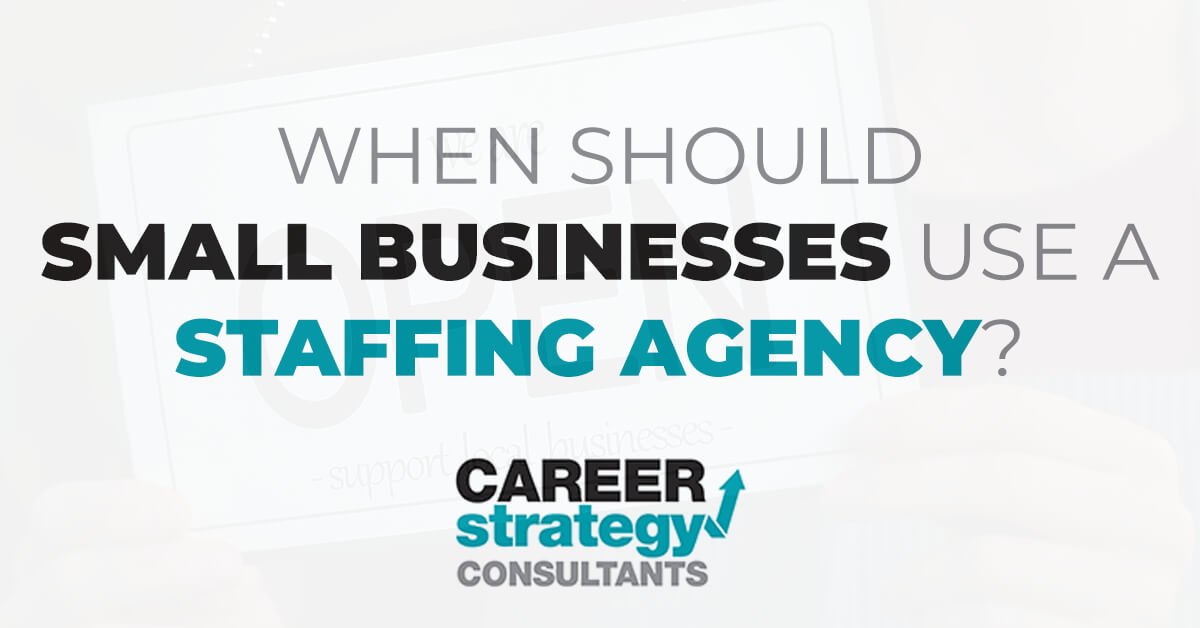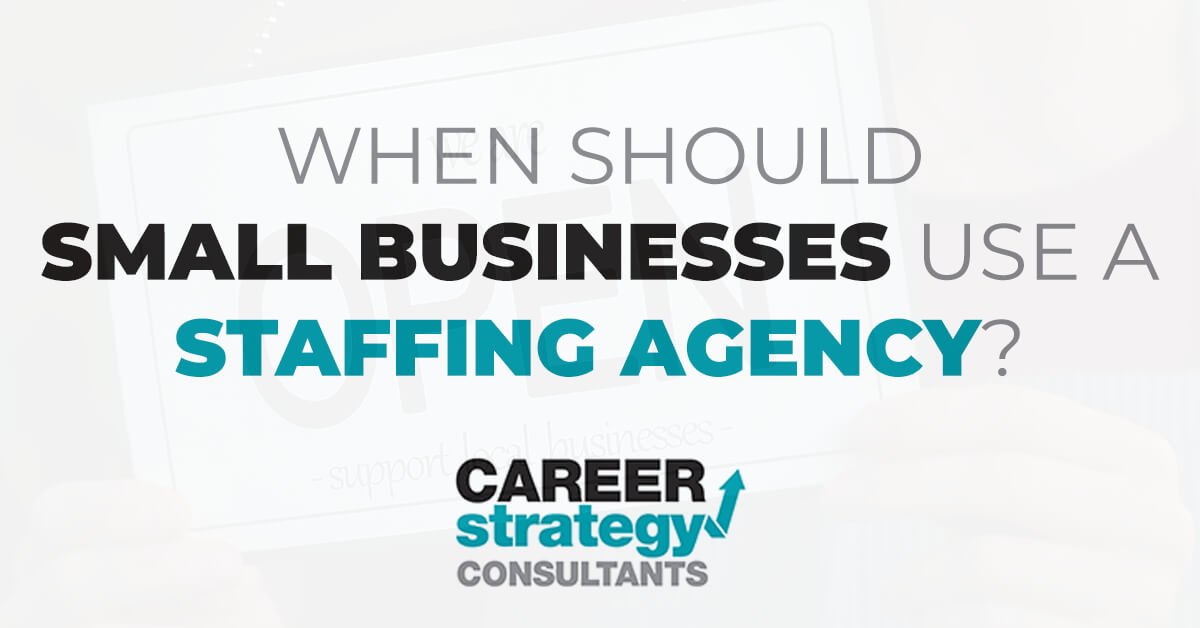 If you don't have time to post a job listing to various job boards and are not getting applicants, then this article is for you.
Hiring is hard work, and even if you're good at it, it can take up most of your time.
This leaves very little time for doing other important things like running the business or spending quality time with family. If you are ready to free up some of that valuable time, then what are more benefits for using a staffing agency?
Flexibility
Flexibility is one of the major benefits of hiring a staffing agency. When you use a recruiting service or staffing agency, you can hire for a specific project or to fill a full-time position. This flexibility allows you to be able to manage your workforce as needed. If you want to have an open office, then that is no problem. The staffing company can arrange everything for you so that everyone in your office works in the same environment.
Another benefit of flexibility is that when it's time for employees to leave, you have employees who are willing and able to work and pick up the slack as needed. Do you have a particular position that you're having trouble recruiting viable candidates to interview and potentially hire? A staffing agency can utilize a fairly robust database and network to proactively source individuals that match or exceed your requirements and expectations in a time-efficient manner.
Time Savings
You may find yourself saving time, money, and resources by utilizing a staffing agency or recruiting service. By using a staffing agency, you may be able to scale your recruitment process to meet the needs of your growing business and minimize the need for additional staff.
Competitive Pricing
When you use a staffing agency, you are able to benefit from a lower labor budget as opposed to hiring employees with a traditional payroll approach. This may result in savings in labor costs as well as time savings for managing your workforce. Should you decide to utilize a staffing agency for direct hire services, credible agencies will typically provide a guarantee on any individual you hire through them to ensure their services are worth your company's investment.
Saving Costs
Acquiring workers through a staffing agency provides you with a cost-effective way to quickly expand your team with under-utilized talent. Many organizations are looking at sourcing diverse talent as part of their workforce development strategy. However, finding employees from underrepresented backgrounds is costly. A staffing agency can provide the diversity you need at the right price.
Marketing and Advertising Tools
A company with a staffing agency in place will have access to the tools they need to market any position with their business efficiently; such as social media channels and advertising programs (such as Google AdWords). These tools make marketing job openings much easier than if they were trying to do it on their own.
Company Culture and Attitude
Hiring a staffing agency can have a significant impact on company culture. If an employer is uncertain about their company's culture, then they might not know how to hire the right employees. These types of hiring mistakes can create morale issues that the employer will have to deal with after they hire employees. But with a staffing agency in place, it can help avoid these types of mistakes.
An example of this is that companies who hire through staffing agencies are less likely to discriminate against an applicant because of race or gender. It also means that companies are more likely to treat all employees well regardless of age, religion, and sexual orientation (which makes it much easier for employers to create inclusive workplaces).
Performance Feedback
A staffing agency can measure performance to ensure that your team is fully productive and delivering on the project.
Retention Solutions
When your staffing agency provides long-term temporary workers, you can grow your team and develop the talent within those employees, while fulfilling that short-term position requirement without the commitment of hiring full time.
Promote Diversity
Recruitment is an important aspect of diverse talent being hired into your organization. A staffing agency can help promote diversity within your team and work towards a more diverse workforce, which will benefit both your organizational goals and the financial bottom line.
Conclusion
Even if you are a small business owner, it is worth it to look at hiring through a staffing agency. With the benefits described, it's clear that going this route can have a huge impact on your business.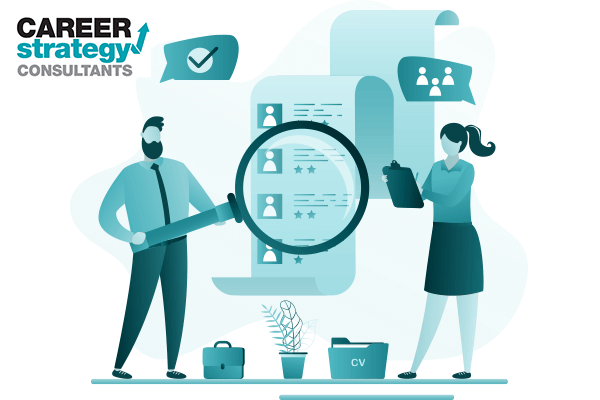 Why CSC?
Our Team
We pride ourselves on providing unmatched Human Resources and Staffing Services and are successful in doing so by solely comprising our team of HR professionals. Career Strategy Consultants (CSC) takes the following measures to ensure we're providing each client with the most efficient, economic, and ethical services possible:
Sourcing Talent
Collecting Demographic Data in the surrounding area (education level, cost of living, unemployment rates, etc.).
Networking with Local Organizations (Colleges & Universities, Chamber of Commerce, SHRM Chapters, and other local organizations tailored to the specific trade or skill set).
Utilize 100+ Job Boards (both broad and niche) and multiple Social Media Platforms to ensure the position is accessible to the largest and most diverse applicant pool possible.
The Selection Process
Our recruiting team members are trained on how to avoid any form of bias, discrimination, misrepresentation, unprofessionalism, or unethical referral and recruiting practices. Career Strategy Consultants conducts regular audits of our team to ensure our employees are in compliance with our policies and guidelines.
Each of our recruiters are also trained to become advocates of each client company in order to attract and retain the most qualified candidate pool for each open job requisition.
The Interview Process
Our recruiters are required to exhibit the utmost form of professionalism throughout the interview process, regardless of the caliber of the position. From the initial screening to facilitating a job offer, our team focuses on the following core values of our organization:
Transparency
Our team understands that every open job requisition is a direct reflection of our client's reputation as well as ours. As a result, we pride ourselves in establishing a positive professional relationship with each candidate, building trust, setting accurate expectations, and ensuring that they are kept informed from start to finish during the vetting and the consideration process. We make it our responsibility to obtain regular updates from each hiring manager in order to provide the most accurate information possible to prospective candidates.
Similarly on the client side, we also provide updates on potential candidates to hiring managers, should anything change on the candidate's end throughout the interview and hiring process. These regular check-ins ensure the candidate remains engaged throughout the selection process and the hiring manager is aware of any potential changes to the candidate's status.
Quality
In an effort to make each search as efficient and effective as possible, our team thoroughly vets each candidate through multiple interviews and provides as much in depth and relevant information as possible pertaining to the candidate's background, experience, skillset, career history, goals, and compensation expectations for every individual we submit to our clients. This approach also allows us to eliminate potential candidates before submitting them for consideration in instances where they do not align with the client's expectations.
Consistency
Career Strategy Consultants has specific policies and processes in place to ensure that every search we conduct for our clients is managed from start to finish as efficiently, effectively, and ethically as possible. Each open job requisition is monitored and evaluated internally in an effort to confirm our services remain consistent regardless of the position, company, or industry. Periodic check-ins with each of our clients to ensure customer satisfaction is also required by our team members.
The Offer Stage and Thereafter
As advocates of your company, Career Strategy Consultants also provides assistance in facilitating job offers to ensure a smooth transition from the offer stage to the onboarding process. Our team is trained on how to determine if there are any underlying concerns or issues for each candidate being offered and how to advise our client to successfully address these concerns in an effort to find a mutually beneficial resolution.
Once a candidate has been placed with your company, our team will then schedule periodic check-ins with the individual indefinitely in order to ensure they remain satisfied within their position and assist the client with addressing any questions or concerns that arise.
Contact Career Strategy Consultants
For more information or inquiries on any of our staffing services, please contact one of our team members at your earliest convenience.