Ways HR can be Proactive During the Holiday Season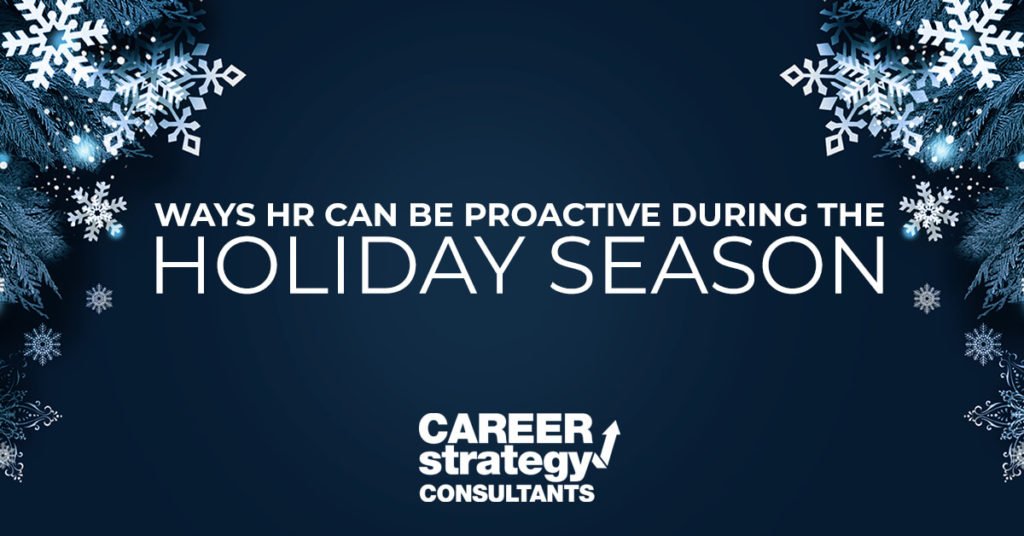 Winter is coming, and so is the holiday season. That means that if you're an HR professional, you've got a whole new set of challenges to face and new opportunities to seize.
Whether your team seems to be bursting at the seams with enthusiastic new hires or get-togethers are getting more infrequent due to waning enthusiasm and ever-increasing workloads, there's no better time than now for your company's Human Resources department to start taking some proactive steps.
This article will discuss various ways that Human Resources professionals can prepare themselves for the holiday season in the US. 
First up, many companies like to hold off on having a massive celebration until the holiday season actually starts. It's important for HR to take care of any workplace celebrations by including all employees in all company events. While it's important for everyone to feel as though they are included in company events, HR should make sure not to overlook certain groups of employees who may be overlooked or forgotten about at these types of events.
For instance, in the United States, many people are not aware of how many different religious holidays there actually are. In the month of December, there are roughly 14 different religious holidays that have some significance to at least one group of people.
Whether it's production-related or social/team building events, it's also unfair (and dangerous) to ask employees to work and/or remain with colleagues for 12+ hours per day when they really only work 8, and it's unfair to insist that they are actively engaged with work or company-related events when they should be enjoying time with family and friends.
Providing as much notice as possible, and extending optional invitations to social events outside of regular business hours, ensures that everyone can plan accordingly and not feel pressured to place work before family and friends.
Ensuring everyone is aware of company paid time off policies is another important aspect of being proactive during the holidays.
There are generally multiple religious celebrations happening during this time of year. Many Americans celebrate Christmas, Hanukkah, and Kwanzaa, while many others celebrate more obscure celebrations like the Winter Solstice as well as many people who have no religious affiliation. This means that during the holiday season, it's important to ensure that staff members are aware of all company paid time off policies. This includes notifying staff members who need to take time off for religious holidays that must be paid, and advising them of how to handle holiday time off due to religious observance.
Next, it's essential for HR to remind the entire team that even though you may have a "business as usual" policy during the holidays, that doesn't necessarily mean that everyone is working. A lot of folks (especially those who do not celebrate religious holidays) will take advantage of this time to catch up on any work they might be behind on or just relax and enjoy their family and friends. 
While some of your associates may be using this time to recharge and relax, others may not. It is essential that HR reminds all employees who don't take time off that they are still expected to show up to work on time, regardless of whether they're working from home or on site.
When it comes to working remotely during a holiday season, also known as "working from home," it's important to ensure that all employees are familiar with how to execute this correctly. This can be as simple as showing them how the equipment for remote access works or explaining the basic rules about checking in and following up with work when you're not on site. As for what to do if an individual is not ready to work from home, HR should include a short verbal reminder that it's expected that they will be available the day before, during and the day after their holiday.
When Human Resources professionals are proactive in helping employees stay on top of company paid time off policies, it not only ensures that everyone is able to take time off for religious and personal celebrations but that staff members will be more engaged in the workplace during this otherwise thankless period of time. It's also a great opportunity for Human Resources professionals at companies who may have difficulty attracting talented new talent to make sure their team working conditions and benefits are comfortable and enjoyable. If you constantly hear the same question coming up in staff meetings, anticipate a complaint at the annual review, or have to deal with an especially irate employee, think about putting a holiday policy together.
Next on the list of important ways that Human Resources professionals can be proactive during the holiday season is advising their leadership team to extend their appreciation and hard work to all members of their teams. This includes managers who may be doing a significant amount of extra work in order to keep their teams afloat because employees are out for holidays or because there's simply not enough hands on deck.
Also include everyone on your team – even that HR assistant who has been working from home for three months due to illness and isn't eligible for paid time off yet. If this is a dramatic change from your typical routine during the end of the year, it's strongly recommended to ensure that everyone knows that the year-end and annual review process will be very different, with all employees feeling the positive effects of their hard work. Rest assured, this probably isn't the first time an organization has decided to change their year-end and annual review process, but it is crucial in terms of maintaining high engagement and employee morale during the holiday season.
Regardless of where you are in your career, it's helpful to remember that you probably wouldn't be in your position right now without the help of a few people along the way. Think about some of your mentors and managers.
What did they teach you?
How have they helped you grow?
Sharing their stories at this time of year is a great way to recognize them for all that they've done for others. From a technical standpoint, you can also be sure to save these stories and share them with others when they come up as an example of how far one person can go with hard work, consistency, and good mentorship.
There are various other ways that Human Resources professionals can be proactive during what is otherwise a very stressful and (for some) thankless time of the year. While it's important to prevent burnout among the team and ensure that everyone has enough time off, it's also important for HR professionals to encourage their leadership team and managers to also take some time off during the holidays.
Many companies have a policy of trying to take at least one week of paid time off during the holidays, but this can be extended to a two-week period or even more if necessary. It's important to encourage leadership and managers to take the time they need, especially if they feel as though they are at risk of burnout.
Next, it's important to ensure that all team members (or at least those who aren't taking time off) are aware of their leadership's intentions and feelings surrounding their time off. This will allow them to understand why the leadership is taking time off, as well as how it impacts the team.
Lastly, be sure to provide additional flexibility when possible. Many companies have a generous time off policy but their rigid time clock means that many salaried employees are unable to take advantage of this perk. Another common mistake is workers who use up all of their PTO (or sick days) prior to the end of the year feeling forced to work extra hours or take "personal days" as if they were vacation days so they can actually spend time off with family and friends during the holidays. This gives an inaccurate impression of your time off policies which can lead to some big frustrations for salaried employees. 
Human Resources professionals can be proactive during the holidays by taking steps such as those listed above in order to ensure that they're fairly reflecting your company and its resources while ensuring that everyone is able to be fully engaged in the workplace. The holiday season may not be the most exciting time of year, but it's important to stay mindful of what's happening around you even if you're not particularly excited about having a little less free time this year. Take as much time off as you can for yourself and for your family. Enjoy the season with those closest to you, whether that means exchanging gifts or simply being together and enjoying the holidays from afar with video chats, text messages, and phone calls.
Most importantly, remember to be proactive throughout the season and make sure that everyone is able to have fun while also benefiting from all of your hard work in a positive way.
We wish everyone a happy holiday season!